Sexual Meaning Over a Life Span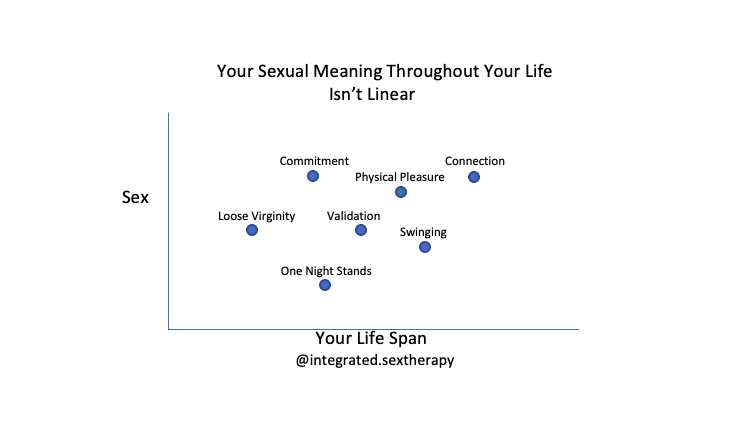 The beauty of sex (and really anything in life) is the meaning we place upon it. Humans place meaning on a plethora of things; memories, events, people, relationships, status, and sex to name a few.
The original meaning you might have placed on sex could have been a culmination of your upbringing, society, religion, culture, people you know, and experiences. All of this gave you an ideal as to what sex means to you. This ideal is neither right nor wrong, it's yours.
Things can't start to go awry when your meaning is different than your partners. Or if you were both once in sync, and then find yourselves out of sync.
Sex isn't linear. Sex can morph, transform, and evolve into whatever meaning you place upon it. At different stages of life, at different stages in a relationship, sex can mean different things to you.
This liberating approach can help you can choose what sexual phase you are in, and if partnered, communicate this. Or perhaps it doesn't change over your life span, that is completely ok too. Keep in mind what worked when you were a horny teenager might not necessarily serve you after 20 years of marriage.
Being self-aware, knowing your desires, good communication, and the ability for introspection can help you navigate the meaning you place on sex at different phases of life. Examining expectations, libido styles, and what turns you on are all a great place to start.
Keep in mind you are allowed to change the meaning of sex, and have different sex at different stages of life.